The T-62 is a Soviet main battle tank that was first introduced in 1961. As a further development of the T-55 series, the T-62 retained many similar design elements of its predecessor including low profile and thick turret armor. In contrast with previous tanks, which were armed with rifled tank guns, the T-62 was the first tank armed with a smoothbore tank gun that could fire APFSDS rounds at higher velocities. While the T-62 became the standard tank in the Soviet arsenal, it did not fully replace the T-55 in export markets due to its higher manufacturing costs and maintenance requirements compared to its predecessor. Although the T-62 was replaced in Russia and the successor states of the Soviet Union, it is still used in some countries and its design features became standardized in subsequent Soviet and Russian mass-produced tanks.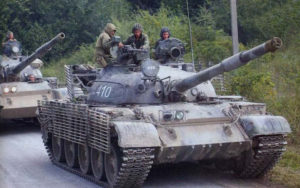 The T-62 has a typical tank layout: driver's compartment at the front, fighting compartment in the center and engine compartment in the rear. The four-man crew consists of the commander, driver, gunner and loader. Although the T-62 is very similar to the T-55 and makes use of many of the same parts, there are some differences. These include the hull, which is a few centimeters longer and wider, the different road wheels, and differences in characteristic uneven gaps between road wheels. Unlike the T-54 and T-55 main battle tanks, the gaps between the last three pairs of road wheels are larger than the rest.
The armament consists of the 115 mm U-5TS "Molot" (2A20) Rapira smoothbore tank gun with a two-axis "Meteor" stabilizer and 7.62 mm PKT coaxial general-purpose machine gun mounted on the right of the main gun. The 12.7 mm DShK 1938/46 antiaircraft heavy machine gun is mounted on the loader's hatch. It was optional until 1972 when all newly built tanks were fitted with the AA heavy machine gun. The tank carries 40 rounds for the main gun (although only 4 are placed in the turret, the rest are stored in the back of the fighting compartment and in the front of the hull, to the right of the driver) and 2500 rounds for the coaxial machine gun. All of the vehicle's armament is mounted in or on the round cast egg-shaped turret from the Ob'yekt 140 prototype main battle tank, mounted over the third pair of road wheels.
The T-62 was armed with the world's first smoothbore tank gun, giving it considerably greater muzzle velocity than the Western 90 mm and 105 mm tank guns of its time. It can fire BM-3 APFSDS-T, BK-4, BK-4M HEAT and OF-18 Frag-HE rounds. The 115 mm gun introduced the first successful APFSDS ammunition, albeit with a steel penetrator. A smoothbore gun allowed a significantly better performance (from 10% to 20%) from HEAT ammunition, which was considered the main ammunition type for fighting enemy armour at medium and long ranges. The gun can be elevated or depressed between −6° and +16°. It is reloaded manually and gets automatically reset to +3.5° of elevation after it is fired if the stabilizer is enabled. Empty cartridges are automatically ejected outside the vehicle through a small hatch in the rear of the turret. The gun has a range of effective fire of about 4 km during day conditions and 800 m (with the use of night vision equipment) at night. This tank was fitted with a Meteor two-axis stabilizer, it allows the T-62 to aim and fire while moving, according to tests conducted by the US army the Meteor gave the T-62 a first hit probability of 70% for a moving target at 1000 meters with the tank moving up to 20 km/per hour. This gave the tank a good advantage in dynamic battlefields and breakthrough operations, especially in Central Europe where most of tank battles would take place under the 1500 meters range. More details